LOGAN — No one would have been surprised if the Utah State Aggies went to sleep Saturday still hearing the ringing of a bell.
On Halloween night, the Aggies (0-2) found out what will really give them nightmares. Move over ghosts and ghouls, San Diego State (2-0) running back Greg Bell was in town.
Freddy Krueger himself wouldn't have put as much fear into the hearts of the Aggies than seeing Bell with the ball in his hands. Bell accounted for 186 total yards and two touchdowns as the Aztecs rolled to a 38-7 victory over Utah State Saturday in Logan.
Bell's statline: 22 carries for 157 yards and a touchdown, and another 29 yards and another score in the passing game.
"I would say without looking at the tape it is pretty simple to see," Utah State head coach Gary Andersen said. "I don't think I need to look at the tape for that — physically we got beat up front on both sides of the football. We missed tackles again on defense."
And in the second half, it seemed the Aggies could hardly get a finger on Bell. He eluded tacklers with relative ease as a gassed Aggie defense proved helpless to keep up.
Late in the third quarter, the Aztecs were facing a fourth-and-1 from the Utah State 27-yard line. They had already missed two field goals (one wide and one blocked) and the Aggies had proven helpless to stop the San Diego State rushing attack. And yet everyone knew Bell was getting the ball, and still he got to the outside and tiptoed down the sideline for a long touchdown run. He added his second touchdown on the next possession on a 27-yard touchdown reception from Carson Baker.
That was part of 28 unanswered points by the Aztecs to finish the game.
Bell wasn't the only Aztec who had a field day against the Aggies on the ground. San Diego State had over 400 yards rushing — with most of that damage coming in the second half. Chance Bell had 98 yards on just 10 carries while Jordan Byrd's first and only carry went for a 73-yard touchdown.
Once the Aggies cracked, the dam broke.
Senior safety Shaq Bond, though, wasn't willing to put the blame on his offensive teammates.
"It'd be easy to say that, but at the end of the day, no matter how many snaps we are out there, we got to still produce," Bond said. "Offense is gonna keep getting better, but at the end of the day we got to do our job."
But there was a reason that most of the damage came after halftime: the Aggie defense could no longer makeup for an offense that was completely ineffective. Eventually all the short (both in yards and time) Utah State drives caught up with the Aggie defense.
Jason Shelley, who started his second game for the Aggies, was 13-of-21 for just 88 yards and a touchdown — not really a statline to write home about, especially since most of that came on a single play.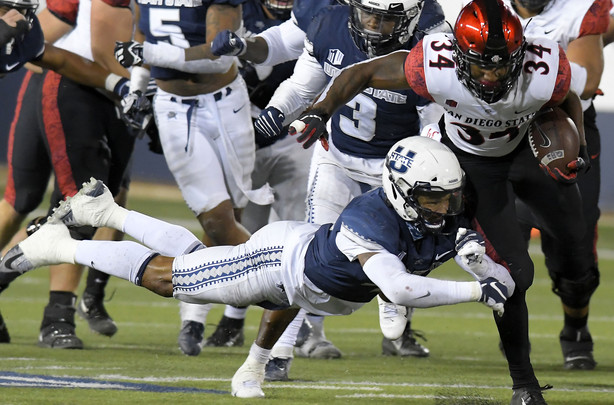 On the final play of the first half, Shelley stepped up and lofted a deep pass into the outstretched hands of Deven Thompkins for a 37-yard touchdown. That play made it 10-7 at the break and offered a glimpse of what the Aggies hoped Shelley would bring to the team — an elusive quarterback that can extend plays and make big time throws. For Saturday, at least, it turned out to be fools' gold. Take away that play and Shelley was just 12-of-20 for only 51 yards and an interception.
He was replaced by Andrew Peasley in the fourth quarter, but Peasley didn't fare any better; he finished 5-for-9 for 24 yards with an interception.
"We don't have an identity on offense, we don't have any rhythm on offense," Andersen said.
Andersen said his team has to find a way to get the ball in the hands of the playmakers — Thompkins and Justin McGriff combined for 10 catches for 85 yards. The Aggies were without starting running back Jaylen Green Saturday, but Andersen didn't think he would have been able to make too much of a difference — not with how the Aggies were playing, at least.
"The numbers are pathetic," Andersen said. "There's no other way to cut it. Ultimately that starts with me — I brought these guys here, I brought the coaches here. … It is 100% pathetic and embarrassing for everybody in Aggie nation."
On Saturday, the Aggies simply got their bell rung.
×
Photos
More stories you may be interested in